DLI Announces 2022-2023 Board of Directors


CONTACT:  Mary Scalco                                               FOR IMMEDIATE RELEASE: September 7, 2022
                    800-638-2627, Ext. 1102
                    Harry Kimmel, Ext. 1502    
DLI Announces 2022-2023 Board of Directors
Volunteer Leadership Guides Institute and Industry
Drycleaning & Laundry Institute officials swore in DLI's 2022-2023 Board of Directors at its Summer 2022 Board Meeting in Atlanta. DLI's Board is comprised of fabricare business owners and operators from eight regions around the U.S., an Executive Committee, and Allied Trades representatives. All Board members volunteer their time and energy to guide the Institute toward providing the best benefit to DLI member cleaning professionals.
The 2022-2023 DLI Board of Directors features:
Chair: Bobby Patel, Kona Cleaners, Costa Mesa, California
President: Jeff Schwegmann II, CGCP®, Sunshine Cleaners, Cold Spring, Kentucky
President-Elect & District 1 Director: Kathy Benzinger, Benzinger's Dry Cleaning, Hamburg, New York
Treasurer: Kyle Nesbit, Tide Cleaners, Spring, Texas
District 2 Director: Norman Way, Puritan Cleaners, Richmond, Virginia
District 3 Director: Don Holecek, Crown Cleaners, Knoxville, Tennessee
District 4 Director: Ray Kroner, Kroner Dry Cleaners, Cincinatti, Ohio
District 5 Director: Ed Longanecker, Iris City Cleaners, Mount Pleasant, Iowa
District 6 Director: Danny Bahlman, Bahlman Cleaners, San Angelo, Texas
District 7 Director: Hilary Taylor, Continental Cleaners, Salt Lake City, Utah
District 8 Director: Toran Brown, Rytina Fine Cleaners & Launderers, Sacramento, California
Allied Trades Director: Mark Albrecht, The Route Pros, Woodbury, New Jersey
District Committee Members
DLI's Board of Directors includes District Committee Members (DCMs) who volunteer to share their perspectives and experiences with DLI's Board. District Committee Member insights help the Board evaluate situations and make better-informed decisions.
District 1 DCM: Larry Fish, Kingston Cleaners, Wakefield, Rhode Island
District 2 DCM: Chris Edwards, A Cleaner World, High Point, North Carolina
District 3 DCM: Rhonda Eysel, Master Kleen Dry Cleaners, Columbus, Georgia
District 4 DCM: John Mertes, Ziker Cleaners, Inc., Mishawaka, Indiana
District 5 DCM: Thomas J. Ustanik, Jr., Lansing Cleaners, Inc., Lansing, Illinois
District 6 DCM: Allan Cripe, Valet Cleaners & Coin Laundry, Temple, Texas
District 7 DCM: Joe Blaha, GreenEarth Cleaning, Kansas City, Missouri
District 8 DCM: Ray Rangwala, Esteeem Cleaners, Pasedena, California
Allied Trades DCM: Dru Shields, Enviroforensics, Indianapolis, Indiana
DLI Districts by State
District 1: Connecticut, Maine, Massachusetts, New Hampshire, New Jersey, New York, Rhode Island, Vermont
District 2: Delaware, District of Columbia, Maryland, North Carolina, Pennsylvania, Virginia, West Virginia
District 3: Alabama, Florida, Georgia, South Carolina, Tennessee
District 4: Indiana, Kentucky, Michigan, Ohio
District 5: Illinois, Iowa, Minnesota, Nebraska, North Dakota, South Dakota, Wisconsin
District 6: Arkansas, Kansas, Louisiana, Mississippi, Missouri, New Mexico, Oklahoma, Texas
District 7: Arizona, Nevada, Alaska, Idaho, Colorado, Utah, Wyoming, Montana, Oregon, Washington
District 8: California, Hawaii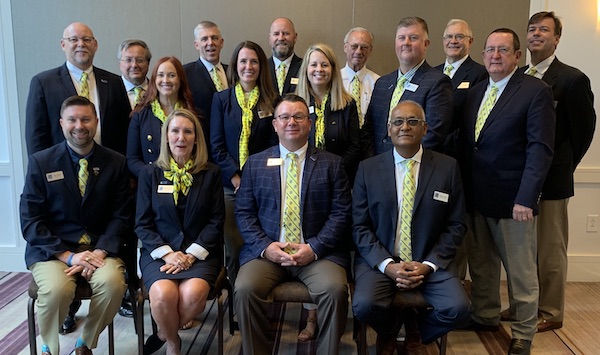 Front Row (left to right): Kyle Nesbit, Treasurer; Kathy Benzinger. District 1 Director & President-Elect; Jeff Schwegmann II, CGCP®, President; Bobby Patel, Chair.
Second Row (l-r): Norman Way, Hilary Taylor, Dru Shields, Rhonda Eysel, Mark Albrecht, Danny Bahlman.
Back Row (l-r): Tom Ustanik, Toran Brown, Allan Cripe, Ed Longanecker, John Mertes, Don Holecek.
Not Pictured: Joe Blaha, Chris Edwards, Larry Fish, and Ray Kroner, Ray Rangwala.
Image download available here.
DLI exists to help member drycleaners succeed.
Learn more at DLIonline.org
-30-